Michael W. Dotts
Attorney
Michael has been practicing law for more than 25 years. He has taken and passed bar exams in California, Hawaii, and the Commonwealth of the Northern Mariana Islands. He has appeared in courts in California, Guam, the Republic of Palau, Texas, Louisiana, and actively practices and appears in the Commonwealth.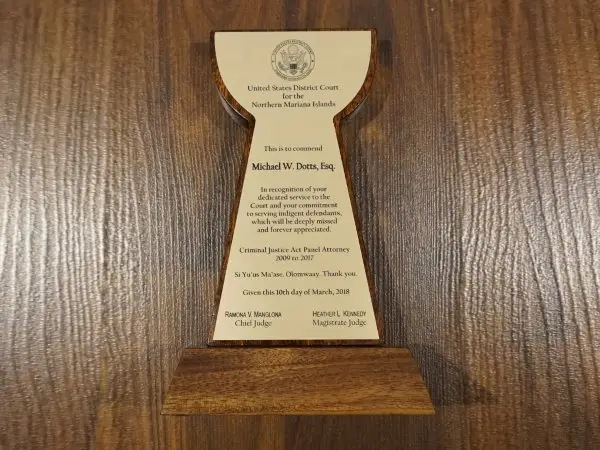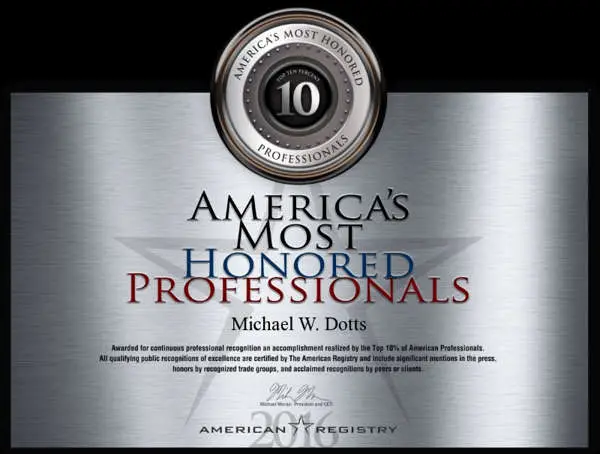 Early Career
Michael practiced in San Francisco with a large employment law firm then came to Saipan to assist the founder of DHL (Larry Hillblom) with securities litigation. After the securities litigation ended he stayed on Saipan and became involved in litigation over land alienation restrictions on behalf Mr. Hillblom and other developers, and also became involved as legal counsel to large developers, a local bank owned in large part by Mr. Hillblom, and an airline serving the Commonwealth. Mr. Hillblom passed away in a plane crash in 1995, and Michael then became heavily involved in litigation involving his estate on behalf of Josephine Nocasa, Mr. Hillblom's longtime partner.
In 2001, not long after the Hillblom Estate litigation ended, Michael began defending garment manufacturers in a large class action case that had targeted both manufacturers on Saipan and retailers in the United States (Doe I v. The Gap, Inc., et al, Civ. 01-0031 (D.NMI). The matter had been filed before three different courts (two in California and one in Saipan) and initially claimed damages in the billions of dollars. The class action eventually settlement for a tiny fraction of what was originally claimed.
In 2005, Michael became involved in mass torts litigation involving the drug manufacturers of a diet drug combination known as "Phen Fen." Michael represented victims of the diet drug combination in California, Hawaii, and Saipan, and filed cases in Saipan, demanding a jury trial. Michael also began taking medical malpractice cases on Saipan. The Fen Phen cases all settled as part of a national settlement.
In 2007, Michael, on behalf of a small group of heirs, intervened in a land compensation case, for a family's property had been taken for a road. Michael obtained a judgment in the family's favor in 2008 and litigated issues over just compensation in the Superior Court and twice to the CNMI Supreme Court and enforcement of a judgment against the Commonwealth. In 2017, after close to ten years of litigation, the government finally paid over $19,291,000 on the judgment Michael obtained in 2008.
In 2009, Michael filed an action against Merrill Lynch, Pierce, Fenner, & Smith Inc. on behalf of Commonwealth retirees that resulted in a settlement of over $7,000,000 for the benefit of retires in 2016.
Jury Trial Experience
The jury trial is the ultimate test of an attorney. Even attorneys who only handle transactional matters will be better able to advice their clients if they know how jury trials work, should a deal go wrong, and a jury must decide liability.
Michael obtained a jury verdict in a personal injury case of $3 Million in a case that involved an accident on a construction site.
Michael also tried to a jury a wrongful termination case that resulted in a mixed verdict for both the employer and the employee. He also tried to a jury in Federal Court a land compensation case that resulted in significant award of damages to his client.
Michael has done some criminal law work that has resulted in jury trial experience. He successfully defended at a jury trial in Federal Court a doctor accused of improperly distributing opioid pain killers.
Michael served as a Criminal Justice Act attorney for the Federal District Court for about ten years, representing defendants who could not afford an attorney. During that time, he handled mostly drug trafficking and immigration fraud cases, and took to trial a case where foreign citizens from China tried to enter Guam in rafts from Rota, and an individual accused of wire fraud related to a fraudulent charity.
In the Superior Court Michael is also occasionally appointed to represent defendants who cannot afford an attorney and doing so he has taken to trial and successfully defended before juries several cases including one individual charged with aggravated kidnapping.
Appellate Practice
Experience with appellate work helps a trial attorney to be become a better trial attorney. Michael has appellate experience.
Michael has appeared before the Ninth Circuit, the Fifth Circuit, and the local Supreme Court.
In the Ninth Circuit, in addition to assisting with briefing cases, Michael argued in the case of United States ex rel. Richards v. De Leon Guerrero, 4 F.3d 749 on behalf of Amicus that was televised in part on CNN due to the significance of the case to the CNMI. Also in the Ninth Circuit, he argued and obtained a reversal for his client in a civil rights case, Flores v. Messenbourg, 116 F.3d 483.
In the Fifth Circuit he argued in the case Bank of Saipan v. CNG Financial Corp, 380 F.3d 836 that set precedent for the cause of action of unjust enrichment, and also obtained a reversal for his client.
In the CNMI Supreme Court he has argued cases that have set precedent in for the Commonwealth the areas of wrongful death (Indalecio v. Yarofalir, 2006 MP 18), and civil procedure (Syed v. Mobil Oil Mariana Island, Inc., 2012 MP 20).
Business Experience
An attorney who has no business experience and who advises businesses may miss the practical aspects of the advice given. Michael has business experience.
Michael sat on the Board of Directors of the Bank of Saipan for more than five years and was one of the three-member Loan Committee. For a short time he managed a small hotel, and he helped start a newspaper and the local cable TV company. He has operated an employee leasing service, and through LLCs he holds various income producing properties, including both commercial and residential buildings.
Michael now primarily practices Real Property Law and assists investors and developers with projects on Saipan, Rota, and Tinian.
Michael has been involved some of the largest leasehold acquisitions of Saipan real property for resort developments. He has experience with golf courses and large hotel resorts, involving leases of both private and public land.
Michael has been involved with many public land leases obtained though the Request for Proposal (RFP) process. He has also obtained zoning variances and conditional use permits and addressed issues with government agencies charged with protecting the environment and limiting the stress on infrastructure that large developments can cause.
Michael also focuses on Employment Law.
Michael began working in Employment Law before coming to Saipan. While in law school he worked as an Extern with Region 32 of the National Labor Relations Board (the "NLRB"). Then after law school, in San Francisco, as an associate attorney with a firm that focused its practice on labor law he was involve in contract negotiations with the Teamsters Union and a union that represented roofers. Working with that firm Michael was also involved with establishing a "two gate system" to prevent a construction site shutdown by picketing unions.
On Saipan Michael led six employers to election victories against labor unions in elections held by the NLRB. He was also involved with defending unfair labor practice charges brought by the union. Michael has also assisted a Guam employer educate its workforce that a union was not appropriate for them, that resulted in the union withdrawing interest to avoid an election loss.
Michael has defended numerous Title VII cases brought by the EEOC and former employees against employers on Saipan. The matters Michael has been involved with included both agency investigations and cases filed in the US District Court. Two matters that were filed in the District Court included pregnancy discrimination involving 11 women working in a garment factory, and a sexual harassment claim alleged against a Head Chef of a large hotel and involving multiple women who worked in the kitchen and restaurant.
Michael has also been involved with numerous cases alleging violation of the Fair Labor Standards Act (the "FLSA"). The cases Michael has been involved with have been brought by the US Department of Labor ("DOL") and by employees themselves. One large case Michael was involved in defending was brought by DOL on Guam and involved construction workers from China.
Michael has been involved in FLSA investigations, settlements with US Labor, administrative hearings before the local Department of Labor, and with cases filed in the US District Court. The largest case alleging violations of the FLSA that Michael was involved with was Doe v. The Gap, et. al., Civ. No. 01-0031(D.N.M.I.). In that case FLSA violations were pled as part of a civil RICO conspiracy between garment manufacturers and retailors. Michael handled discovery for a dozen manufacturers during the case.
Michael also practices in Entertainment and Casino Gaming. He previously represented the Tinian Casino Gaming Commission. When Imperial Pacific International Holdings International was awarded the exclusive casino license for Saipan and the government was sued by the losing bidder, Michael intervened to defend the license. Following that Michael has been involved with various projects on behalf of Imperial Pacific International (CNMI) LLC, the operator of the Best Sunshine Casino on Saipan.
Michael accepts as clients, on a limited basis, Junket Operators seeing licenses with the Casino Control Commission.
Alternative Dispute Resolution
Michael is a certified Mediator by the CNMI Supreme Court. He began his experience with Alternative Dispute Resolution ("ADR") while in college. There, working with various community based organizations, he was involved in a number of mediations involving marital and neighbor disputes.
A large part of the litigation process involves settling a case, usually through an ADR process. Michael has been involved in settling large cases on behalf of clients through JAMS, through the mediation service provided by the Ninth Circuit Court of Appeals, in mediations sponsored by the EEOC, and a great many mediations in the Federal and CNMI courts.
Awards
America's Most Honored Professionals 2016
Martindale-Hubbell Notable Legal Ability & Ethical Standards 2016
Professional Associations and Memberships
Criminal Justice Act Panel Attorney, 2010
Admission
Admitted to the State bar of California, the District Court for the Northern District of California and the U.S. Court of Appeals, Ninth Circuit, in 1987
Admitted to the bar for the Commonwealth of the Northern Mariana Islands and the U.S. District Court for the Northern Mariana Islands in 1989
Admitted to the U.S. Court of Appeal, Fifth Circuit in 2003
Admitted to the State Bar of Hawaii in 2005
Education
University of California at Berkeley (B.A., 1984)
Golden Gate Law School (J.D., 1987)